Connolly's bar in Manorhamilton is a delightfully old school spot for a pint
Article from The Daily Edge July 2016 Here'st he link;
Connollys bar Manorhamilton
Small but mighty. And €3 Guinness!
WITH ALL THE new-fangled bars and restaurants springing up around the country weekly, who could blame you for wishing for a pint in an old-fashioned Irish pub.
Source: Google Maps
Connolly's Bar in Manorhamilton, Co Leitrim, is one of the precious few truly old school pubs left in Ireland, and it's a delight.
Customers say it's been
the same for 50 years
Source:
Facebook
/Leitrim Equation
And sure if it ain't broke…
There isn't room to swing a cat in it
Source:
Facebook
/Foghorn Stringband
There's room enough for 20 customers. The whole place is a snug.
But the pints are top notch
View image on Twitter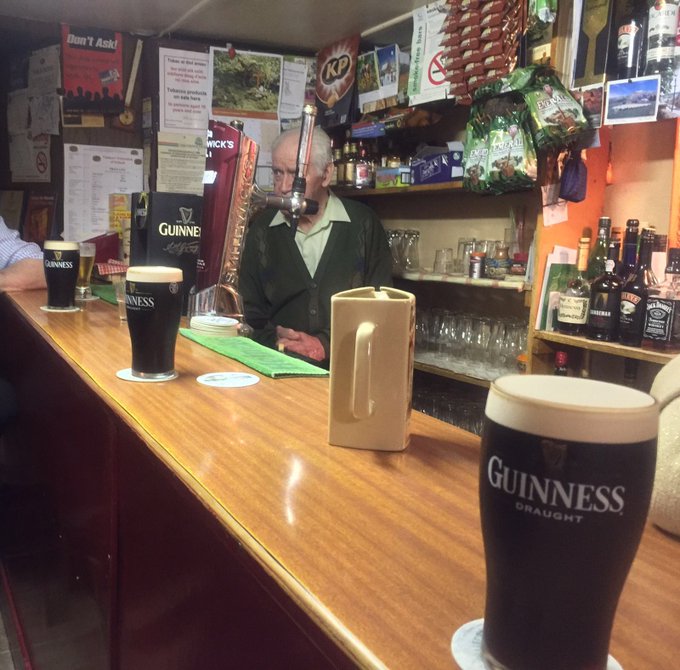 You have a choice of a pint of either Smithwicks or Guinness for the princely sum of €3. What more could you be wanting?
Most importantly, there are Emeralds behind the bar
Source:
Twitter
/@1759holygrail
No fancy pub food, but you certainly won't go hungry.
And if you're lucky, owner Joe Connolly will sing you a song
Joe is renowned in Manorhamilton for his beautiful singing voice, and claims to know
thousands of songs
- his wife Ita is often on hand to sing backup:
https://youtu.be/l9KMDmhiehI
Source:
cgmurphy82
/YouTube
So if you're passing through Manorhamilton, you know where to go for a pint and some tunes. To Connolly's!